All New York City Listings
834 Fifth Avenue 7/8a New York, NY
$76,000,000
€64,895,108
Co-op, Mid-Rise
Built in 1932, the architect was Rosario Candela, a pre-eminent apartment architect of his time. This is the largest unit in Fifth Avenue's premier and most pedigreed building. It consists of 12,000 +/- square feet, with 100 feet facing Central Pa...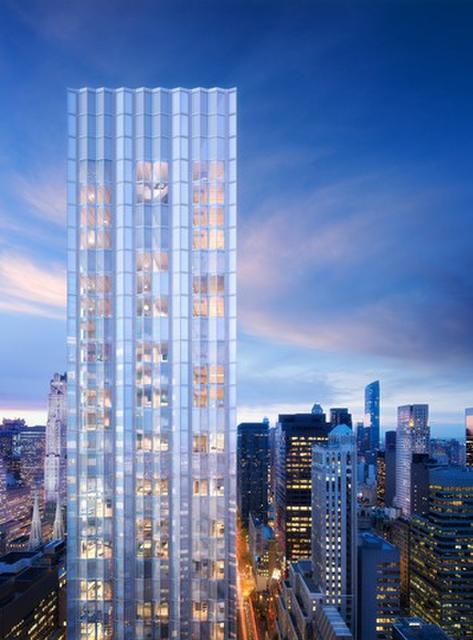 100 East 53rd Street Ph New York, NY
$65,000,000
€55,502,395
Condo, High-Rise
OPEN HOUSE: Wednesday, Jul 25, 2018, 12:00pm - 2:00pm - Crowning this Foster and Partner's masterpiece sits the exclusive glass-walled Penthouse residence with panoramic city and park views. Spread over two floors and totaling 6,760 square feet, this sprawling four bedroom, four-and-a-half bathroom res...
56 Leonard Street Ph53/54 New York, NY
$53,300,000
€45,511,964
Condo, High-Rise
Create the ultimate trophy duplex penthouse atop Downtown Manhattan's most iconic landmark high-rise, Herzog & de Meuron's 56 Leonard Street, by combining the 53rd and 54th floors. Spanning almost 12,000sf of interior space with multiple large te...
157 West 57th Street 77 New York, NY
$44,000,000
€37,570,852
Condo, High-Rise
Towering to over a thousand feet above Midtown Manhattan, ONE57 elevates New York living with the longest south-to-north views of Central Park ever offered in private residences. Walls of glass illuminate dramatic light-flooded homes of extraordin...
22 East 67th Street New York, NY
$39,000,000
€33,301,437
Single Family, Townhouse
7 Beds
13½ Baths
2,376 SqFt
Perfectly located on a premiere Park block between Fifth and Madison Avenue, this palatial 24-foot wide limestone townhome has undergone a complete and custom renovation. Originally built in 1915, 22 East 67th Street offers approximately 13,300 sq...
33 West 56th Street 1-PH New York, NY
$39,000,000
€33,301,437
Condo, Mid-Rise
Once in a lifetime opportunity to create the penthouse of your dreams!The sale includes the three penthouses of the Centurion Condominium. Buyers own the top three floors of the building and can combine the three penthouses in various combinations...
551 West 21st Street 15th Floor New York, NY
$36,500,000
€31,166,730
Condo, Mid-Rise
West Chelsea Waterfront Grandeur With over 8,300 square feet, this extraordinary high-floor residence features two distinct wings separated by an 82-foot long south-west facing grand room with sweeping views of the Hudson River and downtown Manh...
4 East 74th Street New York, NY
$35,000,000
€29,885,905
Single Family, Townhouse
Originally commissioned in 1898 in the Beaux-Arts tradition by American Architect Alexander Welch of Welch, Smith and Provot. In 1901, the newly completed mansion was purchased by Francis Lynde Stetson and his wife, the former Elizabeth Ruff. ...
8 East 63rd Street New York, NY
$35,000,000
€29,885,905
Multi-Family, Townhouse
7 Beds
10½ Baths
2,000 SqFt
CENTRAL PARK BLOCK GRAND DAME Erected in 1878 by C.P.H. Gilbert, this impressive 25' wide Neo English Classical brick and brownstone, elevatored mansion features 5 floors and sits just two doors from Central Park, in the heart of Madison Avenue's...
1030 Fifth Avenue 12th Floor New York, NY
$35,000,000
€29,885,905
Co-op, Mid-Rise
JER Carpenter's beautiful limestone clad building at 1030 Fifth Avenue is home to some of the finest apartments on the city's most iconic avenue. This 14 room apartment comprises the entire 12th floor with outstanding views in all directions. The ...
1060 Fifth Avenue 10-B New York, NY
$34,500,000
€29,458,964
Co-op, Mid-Rise
This important 12 room prewar residence with 51 feet of Central Park frontage and 5 bedrooms is located on the 10th floor of 1060 Fifth Avenue. It is notable for its grand scale, beautiful views of the reservoir, and a gracious, flexible floor pla...
2 North Moore Street New York, NY
$32,500,000
€27,751,198
Single Family, Townhouse
6 Beds
7 Baths
3,658 SqFt
An unrivaled residence on one of Tribeca's most exclusive, fabled streets, this majestic mansion with 65' of frontage on a prime corner lot affords its discerning owner a rare and privileged lifestyle. Built in 2008, yet epitomizing modern luxury ...